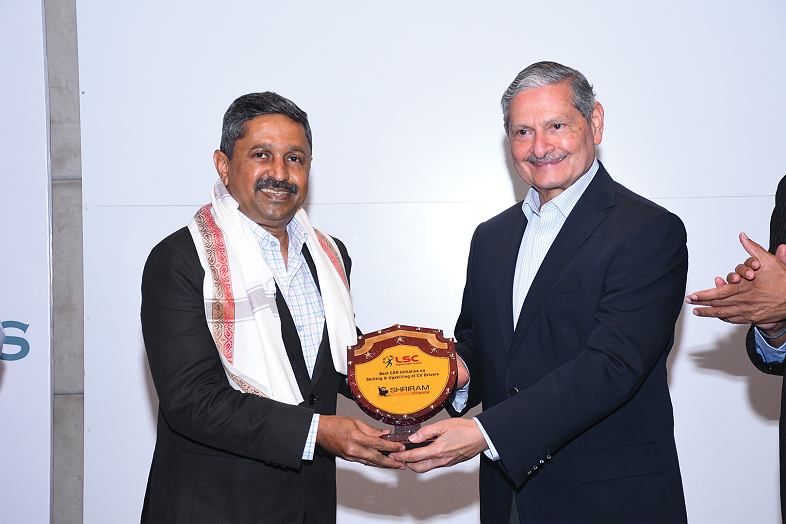 Chennai, 16th November 2023: The Logistics Sector Skill Council (LSC) felicitated Shriram Finance Limited (SFL) for its outstanding CSR initiative at a glittering ceremony at the M.G.M. beach resort in Chennai in October 2023. Mr. Balamurugan Thevar, CSR Head at SFL, on behalf of the organisation, accepted the recognition in the presence of esteemed guests, including Mr. Cyrus Guzder, Managing Director of AFL Logistics and the Chairman of LSC.
Due to a severe shortage of drivers available to drive and operate LMO Cryogenic tankers during Covid, the Logistics Sector Skill Council approached Shriram Transport Finance Company Ltd, renamed Shriram Finance Ltd, for assistance in training 1000 cryogenic tanker driver operators.
SFL received the accolade for its initiative to train and upskill drivers in the transport of cryogenic liquid medical oxygen (LMO) tankers. The initiative, introduced during the COVID-19 pandemic, is notable for helping improve the supply of drivers capable of handling LMO, a life-saving chemical during the pandemic. Also, individuals certified through the program have transitioned from being HMV composite drivers to becoming specialised LMO tanker operators, resulting in increased compensation and better livelihood opportunities.
The initiative underscores SFL's unwavering commitment to enhancing, upskilling, and reskilling drivers for their betterment and empowerment. SFL has actively supported the certification of more than 51,000 plus drivers, who have achieved National Skill Qualification Framework (NSQF) certification Level 4. SFL's initiatives have successfully improved the skills and levels of safety awareness of drivers. Apart from enhancing road safety, the initiative has also elevated the drivers' socio-economic status. LSC's recognition testifies to SFL's continuous dedication to uplift the lives of its stakeholders through training and skill development.