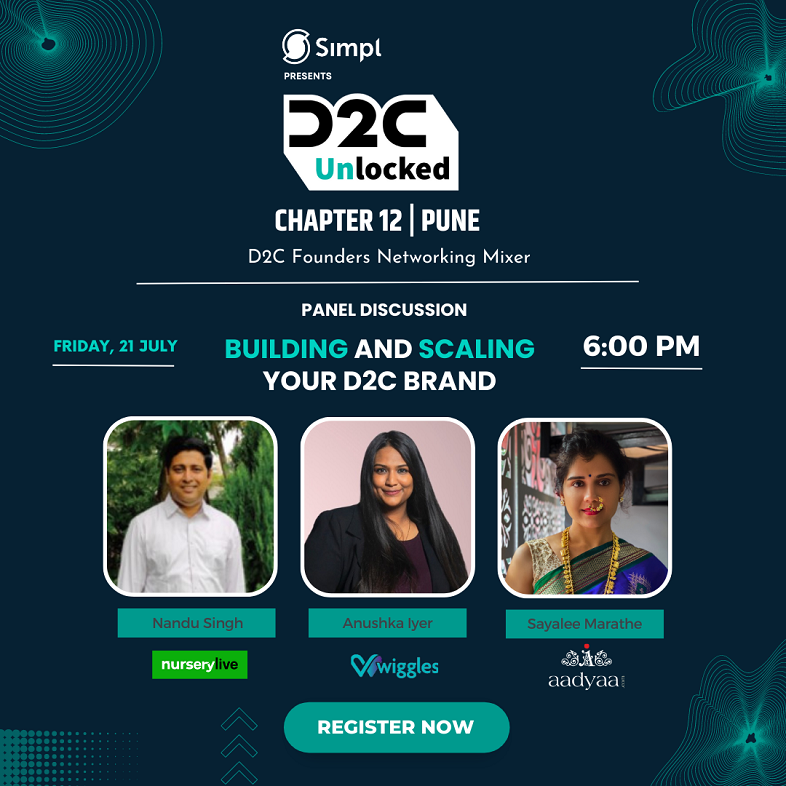 Pune, July 20, 2023: Simpl, India's foremost Checkout Network, today announced its first-ever community-based start-up founders meet- D2C Unlocked in Pune to be held on July 21st. The event will bring together D2C company founders to actively engage in discussions around building and scaling brands through knowledge sharing and collaboration.
Attendees of the first-ever D2C Unlocked event in Pune will also have the opportunity to interact with industry peers and experts through a dynamic panel discussion on Building and Scaling your D2C Brand. City-based founders including Nandu Singh, Founder of Nursery Live, India's largest gardening platform, Anushka Iyer, Founder of Wiggles, an omnichannel pet care brand and Sayalee Marathe, Founder of Aadyaa, a handmade silver jewellery brand, are among dozens of people participating in the event. Others including Siddharth Jain, founder of Sports footwear brand Helium, and Nitin Vishwas, co-founder and director of Asia's and India's first mead beer Moonshine Meadert will also be part of the meetup. At the D2C founders will also have the opportunity to network with industry peers and experts allowing them to build valuable connections.
Commenting on the community initiative, Nitya Sharma, Founder and CEO of Simpl, said "Pune is one of the fastest growing D2C markets in India and we are committed to empowering the ecosystem through our community efforts. D2C Unlocked is our flagship community-based founders meet which aims to foster a collaborative environment where D2C entrepreneurs unite, exchange innovative ideas, and gain valuable insights. We have already received interest from dozens of founders which acts as a testament to the growing popularity of D2C Unlocked and the learning opportunities it offers".
Simpl is the preferred choice of over 26,000 merchants and 10+ million customers across India, for its revolutionary 1-tap pay and state-of-the-art Checkout Network which is bringing trust and convenience. Additionally, Simpl has instituted a Booster Package for D2C brands which offers a wide range of services from its partners across digital marketing, e-commerce consulting, credit access, and legal support in a subsidised manner. This package is designed to support businesses and enhance their growth.
According to industry reports, the Indian D2C market was estimated to be around $12 billion in 2022 and is anticipated to exceed $60 billion by 2027. With evolving consumer choices, increased investments, and technological advancements, the D2C market presents significant growth opportunities. Simpl aims to be at the forefront of enabling this change by providing comprehensive support to D2C merchants across various aspects, including credit access, discoverability, and seamless payments.