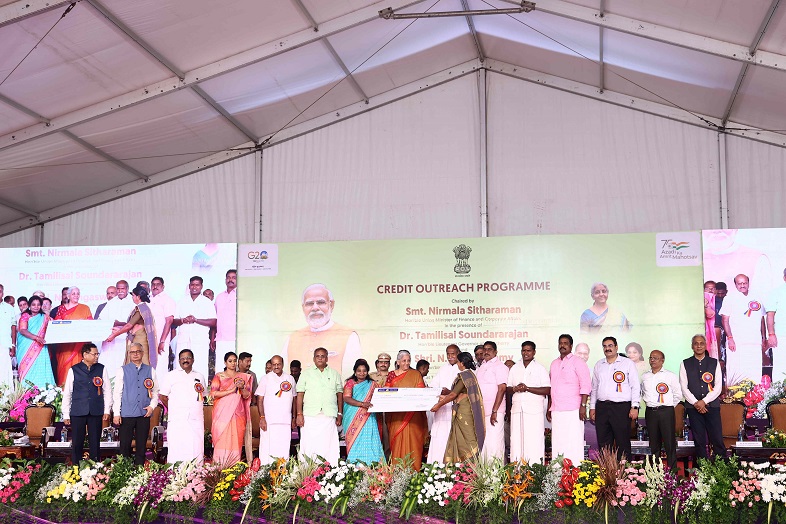 Puducherry, July 2023: State Level Bankers' Committee (SLBC) Puducherry today organised a 'Credit Outreach Programme' at Puducherry aimed at facilitating access to various financial services in the Union Territory with a focus on sectors like tourism, agriculture, fishing, education, etc.
The program was chaired by Smt. Nirmala Sitharaman, Hon'ble Union Minister of Finance and Corporate Affairs. Other dignitaries present were Dr. Tamilisai Soundararajan, Hon'ble Lieutenant Governor of Puducherry, Shri. N. Rangaswamy, Hon'ble Chief Minister of Puducherry, Shri. R Selvam, Hon'ble Speaker, Shri. A Namassivayam, Hon'ble Home Minister, Shri K Lakshmi Narayanan, Hon'ble Minister for Public Works, Shri C Djeacoumar, Hon'ble Minister for Agriculture, Smt. S Chandira Priyanga, Hon'ble Minister for Transport, Shri. Sai J Saravanan, Hon'ble Minister for Civil Supply and Consumer Affairs, Shri. S Selvaganabathy and Shri. V Vaithilingam, Hon'ble MPs, Shri. PML Kalyanasundaram, Hon'ble MLA, Kalapet, Shri. Vivek Joshi, Secretary, DFS, Shri. Rajeev Verma, Chief Secretary, UT of Puducherry, Shri. S L Jain, Chairman, SLBC, Puducherry and MD&CEO, Indian Bank, Shri. Sivasubramanian Ramann, CMD, SIDBI, and Shri E. Vallavan, District Collector, Puducherry.
Under various government schemes like PMEGP, PM Svanidhi, PMFME, and Mudra among others, Rs. 2628 crores were sanctioned to about 1.42 lakh beneficiaries, hailing from Puducherry, Karaikal, Mahe, and Yanam. Some of these beneficiaries were handed over sanction cheques at the event which witnessed over an 8000-strong audience.
Under its CSR initiatives, Indian Bank, SLBC Convenor, and Lead Bank, Puducherry, handed over a food delivery vehicle to Akshaya Patra Foundation to support its implementation of PM POSHAN Abhiyaan (formerly known as the Mid-day Meal Scheme) and 5 defibrillators to the Directorate of Health and Family Welfare Services, Puducherry. State Bank of India also flagged off a Mobile ATM Van today.