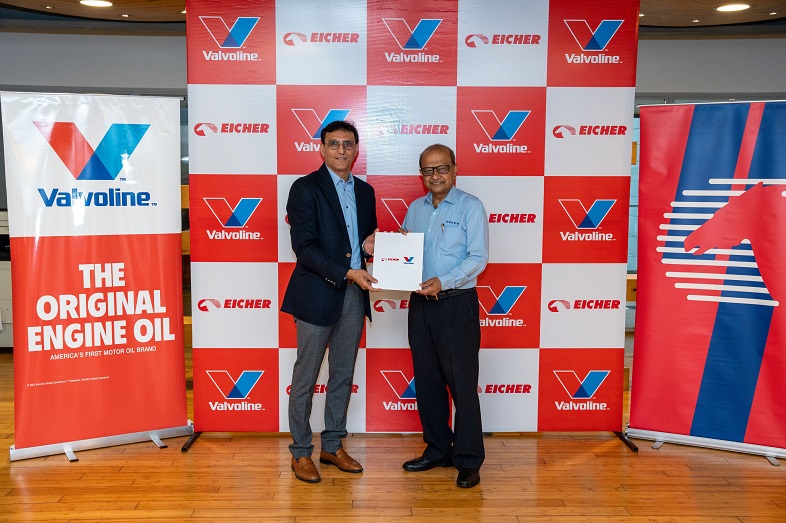 Hyderabad: July 21, 2023 – Valvoline™, a leading global lubricant manufacturer and the original engine oil maker is delighted to announce the extension of its exclusive partnership for service fill and after-sales with Eicher Trucks and Buses a leading player in the commercial vehicle industry. This renewed commitment, to the next phase of growth, stands as a testament to the unwavering belief their customers have in the strong alliance between Eicher and Valvoline. This is an opportune time for Valvoline Cummins Pvt. Ltd as the JV celebrates 25 years of successful operation in India.
Eicher and Valvoline have been associated since 2019 with the supply of Eicher Genuine Lubricants, making significant strides together and successfully navigating the engine technology transition from BSIV to BSVI, ensuring seamless customer experience.
Speaking about the extended partnership, Mr. Sandeep Kalia, Managing Director of Valvoline Cummins, expressed his delight, stating, "We are thrilled to extend our exclusive partnership with Eicher, as it reflects the deep trust our partners have in us. Together, we have come a long way since 2019, navigating industry transitions, overcoming challenges, and ensuring that Eicher trucks and buses continue to run efficiently. This partnership is a testimony to the shared commitment to customer-centricity, seamless integration, and relentless pursuit of excellence. Inspired by our partnership, we are eager to collaborate further with Eicher, leveraging our combined expertise and innovative mindset to develop fluids supporting new energy vehicle technologies.. With our shared values and common vision, we are truly enabling what moves the world forward."

Mr. Vinod Aggarwal, Managing Director & CEO, of VE Commercial Vehicles Ltd said, "First, I would like to congratulate Valvoline on the momentous occasion of their silver jubilee in India and wish them success in the years ahead. At this time, we are also pleased to extend our partnership with Valvoline for their world-class lubrication solutions in Eicher trucks and buses. Over the years, Eicher has taken significant steps to deliver industry-leading uptime to our truck and bus customers and optimize maintenance costs through lengthening service intervals. Our continuing partnership with Valvoline is a further step in this direction."
A key achievement of the partnership has been the flawless integration of backend systems, revolutionizing order fulfillment and automation for an exceptional customer experience. By maximizing the uptime of Eicher trucks, the companies have consistently delivered on their promise of reliability and performance.
This partnership has achieved significant milestones since its inception in 2019. One of the key highlights of this collaboration is the development of Eicher Genuine Lubricants, a premium range of lubricants exclusively formulated for Eicher Trucks and Buses. Eicher took the lead in the commercial vehicle industry by introducing these Genuine Lubricants in 2010, showcasing its commitment to innovation and quality. The successful association between Eicher and Valvoline has witnessed a remarkable year-on-year growth of approximately 20%. This growth can be attributed to the seamless integration of backend systems, resulting in a streamlined supply chain for Eicher's valued channel partners. Additionally, Valvoline's extensive distribution network has played a crucial role in supporting Eicher's expanding operations, ensuring superior vehicle uptime across the entire country.
Looking ahead, Eicher and Valvoline are excited about the future prospects offered by their extended partnership. They will collaborate closely for the next phase of growth to develop innovative fluids that meet the evolving expectations of customers and align with market trends. This includes exploring new technologies such as high-performance long-drain interval fluids, alternative fuel solutions like CNG, and advancements in heat transfer fluids (HTFs). By embracing these new developments, Eicher and Valvoline aim to maintain their position at the forefront of the industry.
Furthermore, both organizations are committed to leveraging various digital platforms to enhance and optimize their services, thereby further improving the overall customer experience. This focus on digital innovation ensures that Eicher and Valvoline stay responsive to the ever-changing needs of their valued customers.