Amity School of Language and Amity Centre for Academic Innovation jointly in collaboration with Dev Sanskriti Vishwavidyalaya, Haridwar, and Haryana Yog Aayog, Government of Haryana, organized a remarkable event to commemorate International Yoga Day-2023 on 21st June 2023. The event witnessed an incredible turnout with enthusiastic participation from yoga enthusiasts and professionals alike.
This year, the theme for International Yoga Day 2023 is "Yoga for VasudhaivaKutumbakam"and effectively encapsulating our collective aspiration for 'One Earth, One Family, and One Future'.
The International Yoga Day celebration at AUH kicked off with an invigorating practical yoga session held from 7:00am to 9:00am in the B Block Foyer,guided by expert yoga instructors from Dev Sanskriti Vishwavidyalaya Haridwar, Shri Vivek Subuddhi and Ms. Shilpi Verma, the session witnessed active engagement from large numbers of individuals who embraced the essence of yoga through various asanas and exercises. The morning session set the tone for further rejuvenation and enlightenment during the day-long celebrations.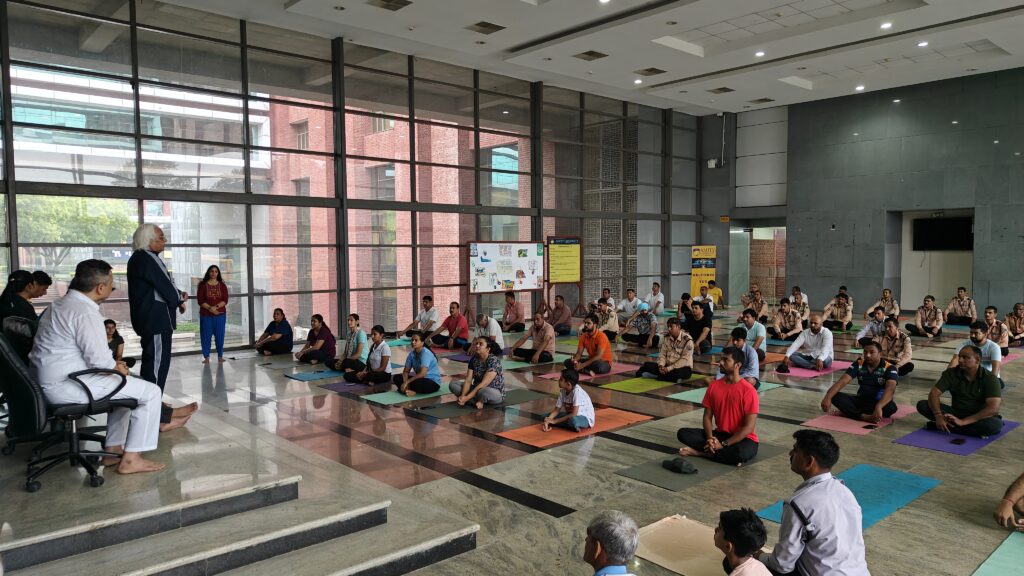 Following the practical yoga session, a thought-provoking yoga-based seminar was organized in the afternoon at Amity University Haryana. The session commenced with a warm welcome address and opening remarks by Dr. Sanjay K. Jha, Director of Amity School of Language and also the head of Amity Centre for Sanskrit and Indic Studies. Esteemed speakers included the Yoga Guru Dr. Ramavatar, Shri Jai Pal Shastri, Member, Haryana Yog Ayog, Dr Rekha Singh, Yoga Guru from World Gayatri Pariwar and Dr Madan Manav, Founder Director, Blissful Life and Prof JK Mehta, Former Professor at AUH and a Yoga Mentor. Dr Rekha Singh made a highly impactful presentation on integrating Yoga, Meditation and Ayurveda in daily life for holistic health and wellbeing of humanity. All the speakers shared their profound reflections on the transformative power of Yoga. The participants were captivated by their insights, gaining a deeper understanding of the holistic benefits of yoga for overall well-being.
A Paper Presentation session was also organized for the young inspired minds at which 20 research papers on various aspects of yoga were presented, showcasing the depth and diversity of knowledge in the field. The student participants were enriched by these presentations, expanding their understanding of yoga's multifaceted nature and its potential applications for their holistic development.
Delivering the thematic address Vice Chancellor of Amity University Haryana, Prof P B Sharma described Yoga as "The science of a Happy, Healthy and Blissful Life". The founding fathers of our Vedic Sanatan spiritual civilization have mandated Yoga and Meditation as an integral part of our daily life and Sattvic food and prayers for the peace and well-being of the entire humanity. They further, inspired us to integrate yoga into our work life and achieve perfection in our work activity through "Yoga KarmeshuKoshlam" as proclaimed in Bhagwat Gita by Lord Krishna. Yoga was in fact the complete therapy for a healthy Mind, Healthy Body and a happy soul, and an assurance of long, healthy, and blissful life, said Prof Sharma. Today, when the world community is seriously engaged in finding lasting solutions to world peace, social harmony and sustainable development, Yoga and Ayurveda together offer highly effective and universally acceptable solutions for creating and sustaining a peaceful and happy world that shall achieve the noble goal of good health for all, said Prof Sharma.
The recorded video message of renowned Yoga and Ayurvedacharya Dr Devan Namboothiri of Asokalayam Ayurveda ChikithsaKendram, Kerala was also presented.
The Haryana Yog Ayog has successfully taken Yoga classes to all the schools of Haryana and has also established Yoga Schools in great numbers in the state of Haryana. The Yog Ayog is also seriously engaged in empowering the youth of Haryana with universal human values of righteousness, honesty and responsible citizenship, said Shri Jai Pal Shastri, Member Haryana Yog Ayog in his highly inspiring address.
The program was organized by Prof. Sanjna Vij, Dy Director, Amity Academic staff College of AUH and was supported by Dr Supriya Sanju and Dr Shardhanvita Singh of Amity Centre for Sanskrit and Indic Studies.
Dr. Sanjay K. Jha,the program chair and Director of Amity School of Language, expressed his satisfaction and appreciation for the overwhelming response received during the event. He said, "We are delighted to have organized such an impactful International Yoga Day celebration. The collaboration with Dev Sanskriti Vishwavidyalaya Haridwar and Haryana Yog Aayog, Government of Haryana, has truly enhanced the event's significance and reach. We are grateful to all the participants for their enthusiastic participation and to the speakers for their profound insights."
Maj. Gen. G. S BalDSW, delivered the vote of thanks, expressing gratitude to all the participants, organizers, esteemed guests, and collaborators for their invaluable contributions to the success of the International Yoga Day celebration.