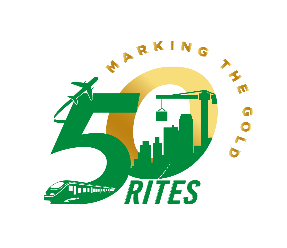 Gurugram, September 2023: RITES Limited, the prime transport infrastructure consultancy and engineering firm, today conducted its 49th Annual General Meeting (AGM) through video-conferencing.
During the AGM, the shareholders approved all resolutions, including the adoption of Audited Financial Statements of the company and the declaration of Rs 6 per share as a final dividend for FY2022-23. This is in addition to the three interim dividends totalling Rs 14.5 per share, that have already been paid during the year. The total dividend of ₹493 crore (₹20.5 per share) attributable to the financial year takes the RITES dividend pay-out at an all-time high of 92.8% of the earnings. The cut-off date for the final dividend payout was September 8th, 2023.
In FY23, the company attained its highest-ever consultancy revenue, and as part of its strategic initiative 'RITES Videsh', it also recorded its highest-ever international consultancy revenue. During FY 23, RITES recorded Rs. 571 crore Profit After Tax as against Rs. 539 crore in FY22, up by 6%. Further, the company's Profit Before Tax stood at Rs. 774 crore as against Rs. 735 crore in FY22, up by 5.3%. This reiterates RITES' stated commitment to prioritize profitability as its central strategy.
While addressing the shareholders, Mr. Rahul Mithal, Chairman & Managing Director (CMD), RITES Ltd, said, "With nearly five decades of expertise, we are well-placed to build up on our legacy and tap the infrastructure growth opportunities through a three-pronged approach: Innovation, Execution and Transformation. We are confident of our ability to realise our vision of being the 'Go-To' Infrastructure Consultancy company across sectors."
RITES' efforts led to the acquisition of orders exceeding ₹3,000 crore in FY23, resulting in a robust year-end order book of ₹5,870 crore, marking a 19% increase compared to the previous year.