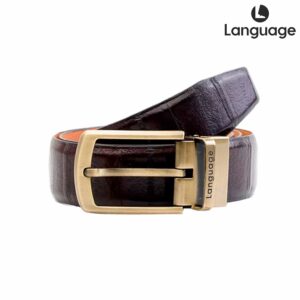 When it comes to accessorizing, belts are a key element in a fashion that transforms your attire from ordinary to dynamic. Introducing Language's collection of premium leather belts crafted with the utmost precision and expertise, designed to add a contemporary edge to any ensemble.
The use of the finest quality leather enhances their appeal, showcasing a timeless design that exudes elegance and sophistication. With exceptional craftsmanship by skilled artisans, each belt is a product of unparalleled quality and timeless elegance, adding a touch of class to any outfit, making them a perfect choice for those who appreciate the finer things in life.
With a premium lining and careful attention to detail, these belts offer all-day comfort while adding an instantly recognizable signature style to your look. From denim to trousers, Language belts can be paired with everything, allowing you to experiment with different looks and showcase your individuality. Whether you're heading to the office, a formal event, or a casual gathering, belts by Language are designed to complement your attire perfectly.
Language belts are available in an array of refined colors, including black, brown, tan, burgundy, navy, camel, and dark brown. Each belt showcases a unique charm with punch detail, a hand-painted finish, premium printed leather, or a textured pattern. Adorned with a brushed nickel or antique brass buckle, these belts epitomize exceptional craftsmanship.