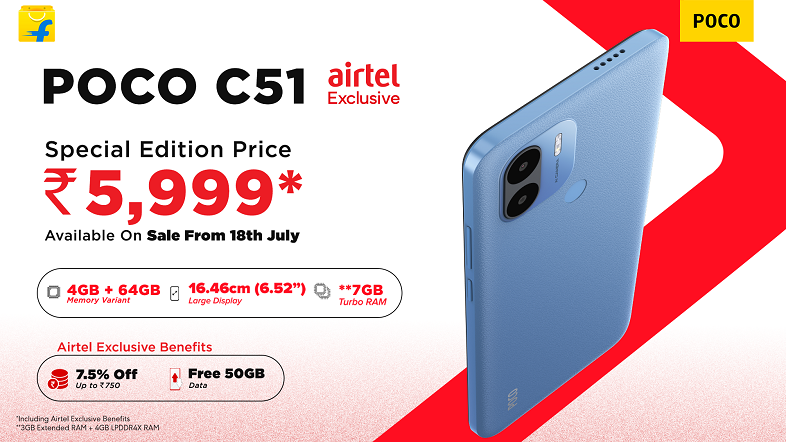 Bengaluru, India – July 2023: POCO India, one of India's leading consumer technology brands, today announced its partnership with Bharti Airtel to launch India's most affordable 4G smartphone. The POCO C51 will be locked with Airtel Prepaid connections. Consumers can shop on Flipkart starting 18th July.
Along with the special price, all Airtel Prepaid customers who buy this device will get a one-time 50 GB of mobile data from Airtel. For non-Airtel customers who wish to avail of this offer can opt for doorstep SIM delivery by Airtel with instant activation to gain this benefit.
Speaking on the partnership, Himanshu Tandon, Country Head, POCO India said, "We are thrilled to announce an alliance between POCO and Airtel that will bring an enhanced accessibility and affordability of POCO C51, across the country. Leveraging Airtel's expansive network, we will also offer the benefits of POCO's cutting-edge technology to a wider audience, and make the POCO C51 a stronger value proposition for smartphone buyers."

Shashwat Sharma – Director, of Consumer Business, Bharti Airtel said, "We are thrilled with this unique partnership for making POCO C51 more accessible for all Airtel customers on Flipkart. This will now help more and more customers upgrade to a smartphone and become a part of the digital revolution."

Commenting on the alliance, Kunal Gupta, Senior Director, Mobiles, Flipkart said – "POCO has been a popular choice among several customers PAN India especially the youth since its launch, for delivering great performance smartphones with a focus on making them affordable to all. The new POCO C51 launch will make a great smartphone experience more affordable, combined with a value-added offering from Airtel, which will make the purchase hassle-free."
The POCO C51 smartphone, equipped with a MediaTek Helio G36 SoC processor and 5,000mAh long-lasting battery life, is an ideal choice for users seeking a high-quality mobile experience. With 7GB Turbo RAM (4GB LPDDR4X + 3GB Turbo RAM), the POCO C51 offers customers a fluid experience and the ability to run and switch between various apps more quickly. This power-packed device also comes with a 6.52″ Large Display and a premium-looking leather-like design.
This partnership between POCO and Airtel represents a significant step in expanding the reach of high-quality, affordable smartphones to consumers throughout India. With its exceptional features, attractive pricing, and the added benefits of Airtel's services, the POCO C51 smartphone is set to make a strong impression in the market.