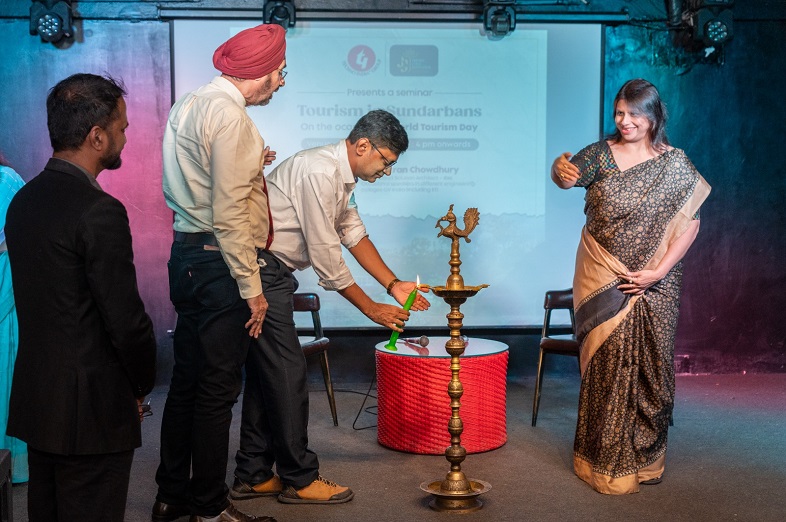 Kolkata, 30 September 2023: A seminar on the unique beauty of the Sundarbans and related tourism was organized by Techno India Group and Jhore Jole Jongole on the occasion of World Tourism Day 2023 and held at Café Offbeat Upthere.
The event aimed to highlight the stunning natural beauty of the largest mangrove forest in the world, the Sundarbans, and the fast-developing tourism industry in the area. Participants were treated to an informative and visually engaging presentation that left a newfound appreciation among them for this one-of-a-kind destination.
The seminar commenced with an introduction of World Tourism Day by Ms. Rituparna Ganguly followed by a virtual welcome address by Prof. Manoshi Roychowdhury, Co -Co-Chairperson, Techno India Groupon the Sundarbans, a UNESCO World Heritage Site and one of the most biodiverse regions on the planet. It was followed by the lighting of the ceremonial lamp and felicitation of the guests. '
Attendees remained engrossed and were virtually transported to the Sundarbans through interesting verbal descriptions and captivating videography.
The presence of Mr. Chitran Chowdhury, Senior Cloud Solution Architect – IBM, a distinguished speaker, was a highlight of the program. He gave a vivid and concise presentation, bringing alive the intricacies of Sundarban tourism and its fine relationship with technology.
Members of the audience learned first-hand from the specialist about how cutting-edge technology is shaping the tourism experience in the region.
"The seminar benefited the students by heightening their interest in this remarkable destination, which is fairly close to Kolkata. Expert insights and captivating visuals truly brought the Sundarbans to life. It was indeed heartening to see the attendees' enthusiasm for this topic," said Prof. Manoshi Roychowdhury, Co-Chairperson, of Techno India Group.
Following the presentations, the seminar transitioned into an engaging question-and-answer session by Mrs. Rupa Mukherjee. Therein, participants got the chance to seek answers to their questions and delve deeper into the subject. The exchange of intriguing facts and stories added a layer of depth to the seminar making it an interactive and immersive experience for all present.
The event continued with a thought-provoking discussion round that was expertly moderated to highlight the key aspects of the Sundarbans and their significance in wildlife tourism. There was a focus on conservation efforts, ecological importance, and the delicate but extremely vital balance that is of paramount importance between tourism and preservation of the ecosystem of the region.
The event ended with a vote of thank